Which is better – online real estate school versus classroom real estate school? What are the pros and cons of online real estate school compared to a classroom course?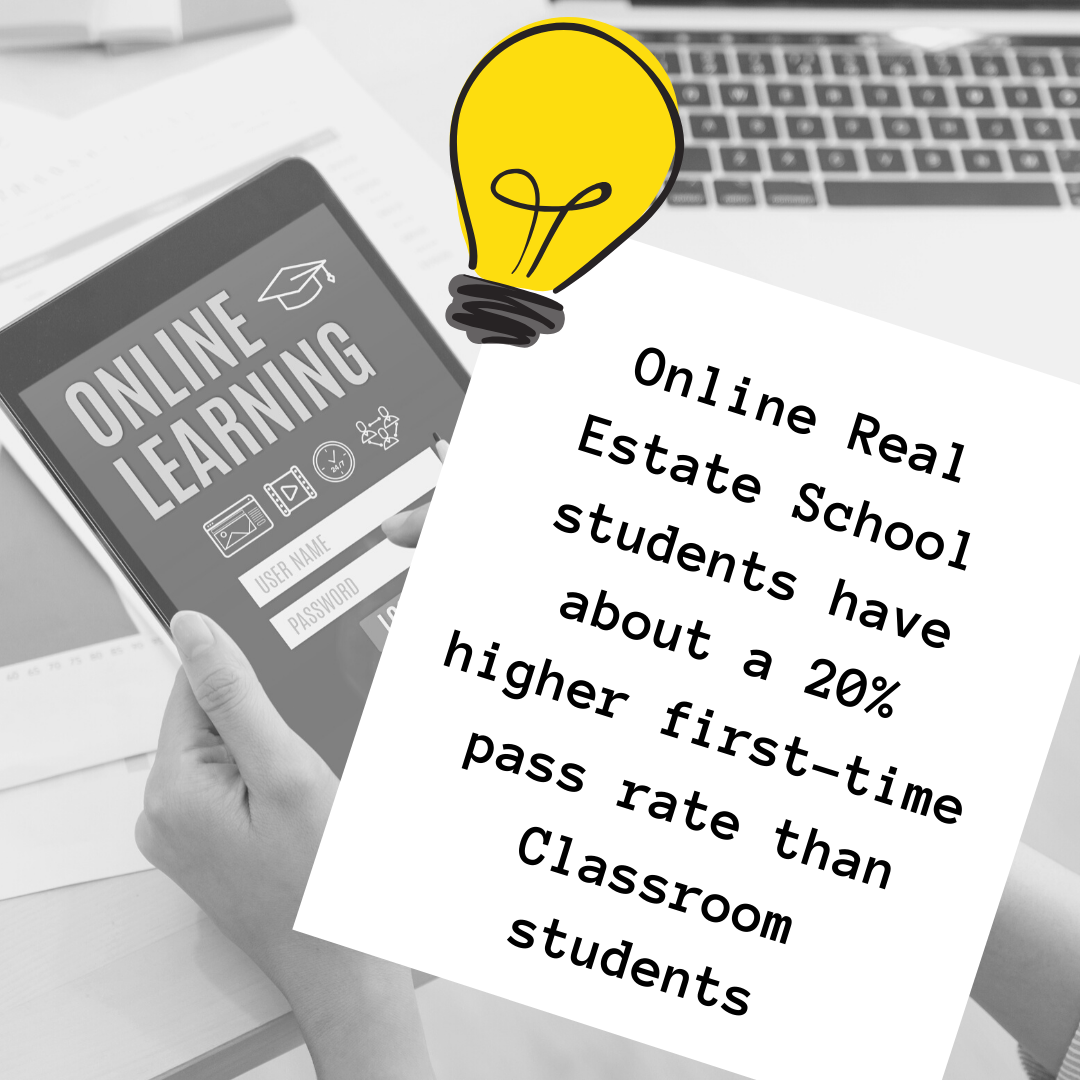 Many people are surprised to learn that the first time exam pass rate for online learners is significantly higher than for exam candidates who took their real estate school course in a classroom.
Did you know…?
Online real estate school students have about a 20% higher first-time pass rate on the state exam than students who took their pre-license course in a classroom.
Pros of Online Real Estate School
-Online real estate school is an affordable option compared to a traditional classroom experience.
-Online real estate school can be completed on your schedule. With the traditional classroom course, you must attend at least 90% of the seat time to be eligible to earn a completion certificate for the course. If life gets in the way, you will only have a short window to make up missed hours.
-Students in online real estate school have a significantly higher pass rate than students in classroom courses. Why? Online real estate school will require significant effort to complete all of the lessons. But, investing this time on the front end will prepare most students better to succeed on the state exam.
Cons of Online Real Estate School
-Completing online real estate school takes motivation, dedication, and discipline.
– Online real estate school will require you to set a schedule and make time to complete the lessons to stay on track toward completion.
Pros of Classroom Real Estate School
-Classroom courses provide more interaction and socialization than online courses. However, an online course with a live-online study group can provide meaningful interaction and socialization.
-Definite start and finish date. When you enroll in a classroom course, you know your start and finish dates. However, if you miss class time, you may not be able to complete the course on time.
Cons of Classroom Real Estate School
-Classroom based courses are more costly compared to online real estate school courses.
-In the age of COVID-19 and social distancing, classroom based courses may not offer the safest learning environment.
-Significantly lower pass rate on the state exam. Nobody wants to fail the state exam and delay starting their career-not to mention pay additional testing fees to re-take the exam.
Bottom Line
We think the future of real estate learning is online. However, we understand students crave for instructor interaction as well as a social learning environment.
Our real estate exam study group offers the perfect solution whether you are an online learner or took a classroom real estate school course. In our real estate study group you will have an opportunity to ask the questions you need answered, make connections between what is taught and what is tested, and bring it together by working through practice exam questions together.
If you are ready to start your license course, start learning online now. We are partnered with The CE Shop to offer high-quality, interactive online courses in most states. Visit https://www.degreere.com
Gain the knowledge you need to ace your real estate exam. Join our real estate study group for access to our live online sessions and exam prep tools, including video lessons on important real estate exam topics, study guides, real estate flashcards, and real estate worksheets. Join Now! https://www.degreere.com